This Month's Featured Exhibition
Gallery North announces its 10
th
annual Beauty of the Northwest invitational art show featuring 58 works of art created by 37 Washington artists. This exhibit allows the artists to explore various creative interpretations that celebrate the splendor of our region. The show opens August 1
st
at Gallery North in downtown Edmonds. All artwork is available for purchase during the show which is open to the public seven days a week until August 30
th
.
Our guest juror, Darlene Lucas, will select the awards for the 2019 Beauty of the Northwest show. Ms. Lucas is a well-known local artist who has successfully exhibited in many galleries and special exhibitions throughout the state. She is a member of Women Painters of Washington, Northwest Watercolor Society, and the International Society of Experimental Artists. Ms. Lucas taught art in the public schools for 40 years and has taught watercolor for the Edmonds Fine Arts Foundation.
Juror Darlene Lucas says, "I look carefully at every work of art. I am looking first of all for strong visual design and personal interpretation. This should be supported with technical competence…there are many ways to produce excellent works."
The poster art for the Beauty of the Northwest is a painting by Beverly Fotheringham. The award for this year was donated by Digital Canvas NW.
The Artists' Reception will be at Gallery North on Saturday, August 10th from 1 to 4 pm with awards presented at 2 pm. Edmonds Art Walk on August 15th from 5-8 pm will feature the Beauty of the Northwest exhibit. The public is invited to attend both of these free events to enjoy refreshments and meet many of the artists.
About Gallery North: In operation for more than 55 years, Gallery North is one of the longest running artists' cooperative galleries in the nation. It continues its mission to promote and sell local art in the heart of beautiful downtown Edmonds, Washington and is open seven days a week. Gallery North is located at 401 Main Street in Edmonds. For further information please visit us at the Gallery North website www.GalleryNorthEdmonds.com or contact Gallery North at 425-774-0946.
August 2019
"Beauty of the Northwest"
A Juried Exhibition
Artist's Reception
Saturday, August 10th, 1-4 PM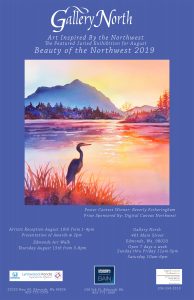 The public is invited to meet the artists and view their extraordinary works at her Artist's Reception on Saturday, August 10th from 1:00 to 4:00 p.m. Refreshments will be served, and the artists available to discuss work and techniques. Artists will also be available for Art Walk Edmonds on Thursday, August 15th from 5:00 to 8:00 p.m.