This Month's Featured Exhibition
July 2019
"Elements of Beauty"
Melinda O'Malley and Leanna Leitzke
Artist's Reception
Saturday, July 6th, 1-4 PM
Melinda O'Malley has been making pottery for 13 years. She took classes at Shoreline Community College to learn the techniques she uses as a foundation for her work. Her work is usually thrown on the potter's wheel with sculptured elements added. She favors using vibrant and pastel colors on her finished work.
In her home studio she creates whimsical dragons and other creatures meant to bring a smile into the world.
"Making happy dragons has been my way of coping with the harshness in the world. If I make something and it makes me happy I want to share that with others."– Melinda O'Malley
Leanna Leitzke paints colorful scenes of the natural world in acrylic and oil. She's been painting since the age of 3. Her mother was very supportive of her and bought plenty of art books. Her favorites were the ones dealing with Renaissance and French Impressionism. From them she learned that formal art education sometimes limits artists with its emphasis on rules.
"I felt like this could prevent me from being fearless and developing my own unique artistic eye and technique. For this reason, it came to me, that I should be self-taught."– Leanna Leitzke.
Some of Leanna's pieces have won awards in Juried Art Exhibits and some have found homes in Paris, London, Eastern Europe, Florida, California, Colorado, Pennsylvania, and Washington DC.
The public is invited to meet the artists at their reception on Saturday, July 6, 1-4pm at Gallery North. Refreshments will be served. The artists will also be present at Gallery North during Art Walk on Thursday, July 18th from 5-8 p.m. "Elements of Beauty" will be open to the public daily through July 31st.
About Gallery North: In operation for more than 55 years, Gallery North is one of the longest running artists' cooperative galleries in the nation. It continues its mission to promote and sell local art in the heart of beautiful downtown Edmonds, Washington and is open seven days a week. Gallery North is located at 401 Main Street in Edmonds. For further information please visit us at the Gallery North website www.GalleryNorthEdmonds.com or contact Gallery North at 425-774-0946.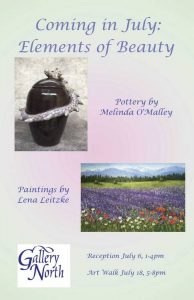 The public is invited to meet the artist and view their extraordinary works at her Artist's Reception on Saturday, July 6th from 1:00 to 4:00 p.m. Refreshments will be served, and the artists will be on hand to discuss her work and techniques. She will also be available for Art Walk Edmonds on Thursday, July 18th from 5:00 to 8:00 p.m.