May 2019
Gallery North Featured Artists Exhibit "Contemplations in Clay" and
"Ornamental Turnings and Other Wooden Bits"
Featuring Ed Cornachio, Ed French, Jeff Harrison.
Gallery North announces the Featured show for May 1-31,"Contemplations in Clay", an exhibit
of polymer clay sculptures by artist Ed Cornachio and "Ornamental Turnings and Other Wooden
Bits"ornamental wood and various small wooden items by artists Ed French and Jeff Harrison.
Ed Cornachio was trained at The Art Center School in L.A. in photography. His early career was
in fashion and advertising. In1964 he was asked to inaugurate and then head the photography
department at the newly constructed Los Angeles County Museum of Art where he curated
shows for the next 18 years. Ed Cornachio brings a unique vision to the show as a result of his
extensive career."I actually held in my hands the works of Van Gogh, Monet, Caravaggio, El
Greco, Michelangelo, Picasso, and scores of other renowned masters.It was an awesome, yet
humbling experience."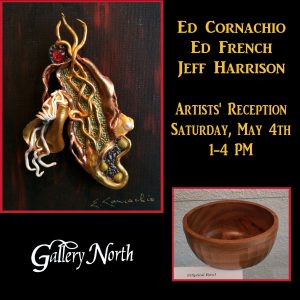 Ed French grew up in Dutch Harbor, Alaska, fished crab
and ran fishing vessels in the Bering Sea until moving to
the eastside working in the software industry before
retirement. Pursuing a love of wood and self-made tools
led him to constructing his own wood lathe, then for a
little bit of a challenge an ornamental lathe. Called a
rose engine lathe it is operated via cam plates, software,
and manual adjustments resulting in small intricate
wooden objects.
Jeff Harrison grew up all over the world with a Navy
pilot father and sea captain grandfather. After attending
an Ansel Adams workshop in Yosemite National Park
where he was exposed to photography as "Fine Art", he
worked to develop his own style of photography. He has
become interested in artistic woodworking in the last
several years.