January 2020
Happy New Year!
from your friends at GNE
Exciting new things in store for Gallery North in 2020, and we hope you will come by to say hello. Artists can be a nomadic tribe, so artists are continually moving in and out giving our walls an ever changing palate of color and texture. Add giving yourself the gift of art to your New Years Resolutions!
About Gallery North: In operation for more than 55 years, Gallery North is one of the longest running artist-run cooperative galleries in the nation. It continues its mission to promote and sell local art in the heart of downtown Edmonds. Open 7 days a week, Gallery North is located at 401 Main Street, Edmonds, Washington. For further information, visit the website at www.GalleryNorthEdmonds.com.
Free Art? What's the catch? : We call it the Peoples Choice Award. Drop by the gallery and ask to vote. Fill out a short form and chose your favorite piece in the gallery. At the end of the month, one name is randomly drawn from the votes. The winner is contacted to come pick up a piece donated by one of our talented artists.
January's Peoples Choice: Mary Bess Johnson's "White Lettuce"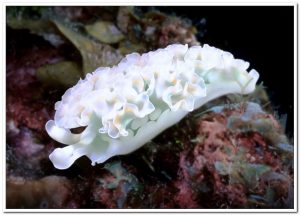 White Lettuce gets its beautiful color from the algae that it eats then keeps alive inside its body. The algae needs sunlight to make food, so the sea slug lives in shallow water. In exchange for providing a protected home, the algae shares some of its energy with the sea slug.
If you would like to subscribe to our newsletter, please click the link below.